Label: Un Plan Simple

Notice: Trying to access array offset on value of type null in /home2/recordof/public_html/on-the-move/track.php on line 88
...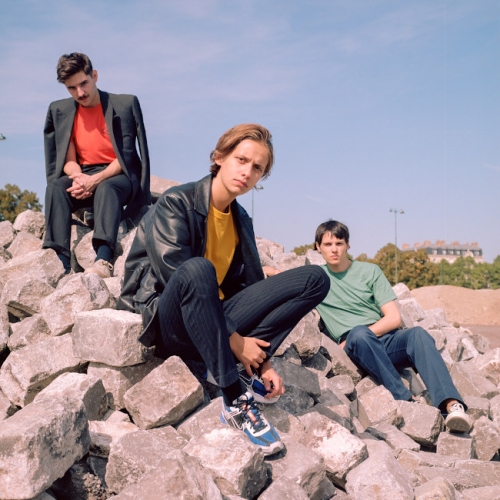 28 May 2020
WE SAY
We've been bouncing around to this groovy number from French trio Keep On Dancing Inc since it dropped into our inbox. Driven by a pulsating analogue bassline and four-to-the-floor beat, Start Up Nation is an energetic blast of indie disco, all wrapped up in a nostalgic '80s sheen. And yes, it is as cool as it sounds. It's picked up tastemaker support at Clash, NME, and When The Horn Blows among others, along with a Radio X-Posure playlist add and multiple plays from Jack Saunders at Radio 1. Previous support has come from the Line of Best Fit, Pop Matters, Spotify, Apple Music and Deezer. The Parisian trio are currently readying their debut album Embrace for release later this autumn, which on the evidence of this cool and sophisticated dose of indie-pop is going to be something special.
CONTACTS
Label: Leslie Dubest, Un Plan Simple
Publishing: Laurent Manganas, Un Plan Simple
National Radio: Alex Dobson, Yes Please
Online & Press: Will Burgess, Practise Music
Live: France - Ugo Tanguy, beau travail
Management: Hugo Ventron, Silta
RECORD ARCHIVE
Label: Ivorian Doll
Quickly making a name for herself on the UK scene over the last year or... Label: Un Plan Simple/Cool Music Company
After a long relaxing bank holiday weekend, let us ease you into the new normal... Label: Polydor
Currently climbing the official charts and on the A Lists at both Radio 1 and... Label: 3 Beat
Currently on the C list at BBC Radio 2 with this irresistible dance-rock anthem (his... Label: 10 Thousand Steps
We are big fans of the ethereal pop sounds of east London-based artist and producer... Label: PMA Records
We last featured Florida-based singer-songwriter and actress Taylor Castro back in February this year with her... Label: Independent via AWAL
If like us, you have been keeping an eye on the burgeoning Irish hip-hop and... Label: DFL
Drenched in laid back tones and feelgood vibes is this breezy, heartbreak-tinged number from Irish... Label: Crowds & Power Recordings
Originally from Stockholm, but now residing in the UK, singer-songwriter Rebecka Reinhard delivers an absolute... Label: LoudKult
With over 10m combined streams, west Wales-based newcomer Cally Rhodes is back with this irresistible... Label: unsigned/AWAL
Grabbing your attention straight from the start is this heartfelt, indie pop gem from rising... Label: Within Temptation Entertainment
Dutch rock behemoths Within Temptation are back with this fresh blast of rock goodness to... Label: Propeller Recordings
Let us introduce you to the gorgeous sounds of 22 year old singer-songwriter Archie Langley... Label: Island
Premiered by DJ Target on 1Xtra on Monday, this sublime dose of sultry, jazz-flecked R&B... Label: Project Melody
This gorgeous debut track is from north London duo Dust In The Sunlight. Singer-songwriters Billy... Label: RCA Records
Now we're pretty confident you're aware of this soulful and beautiful single from Australian-born singer-songwriter...