Label: LoudKult

Notice: Trying to access array offset on value of type null in /home2/recordof/public_html/on-the-move/track.php on line 88
...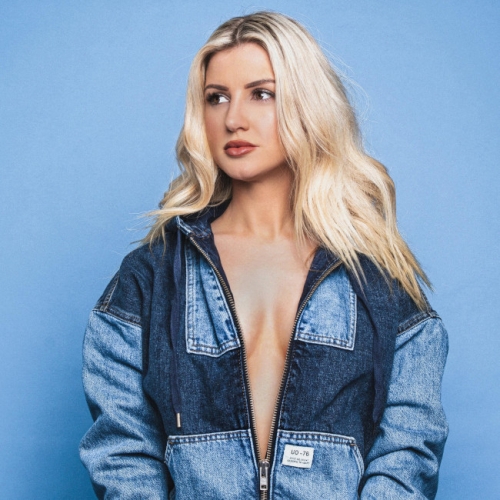 13 May 2020
WE SAY
With over 10m combined streams, west Wales-based newcomer Cally Rhodes is back with this irresistible slice of upbeat and honest dance-pop. Written and co-produced by Cally and mixed by Toby Scott (Little Mix, Gorgon City, Girls Aloud), Downfalls fizzes with infectious energy, full of luscious hooks and a want-to-dance beat that is tailor-made for new pop playlists and radio airplay. Released on Friday it featured on Spotify Sweden's (home to her label, LoudKult) New Music Friday playlist, having previously charted in Spotify's Viral Top 50 chart and New Music Friday playlists with her earlier singles. It's just been added to BBC Radio Wales A-list following previous radio support for her tracks from BBC Introducing (Artist of the Week) and spot plays on Radio 1 and 2. Further support has come from MTV, Pop Dust, Pop Wrapped, Dancing Astronaut and The Sun, plus her music has been used on Strictly Come Dancing. Before the pandemic, she toured with The Midnight Beast, Louise Redknapp and was due to play Kew Gardens and Cardiff Pride this summer. A confident, honest and headstrong new pop star in the making.
CONTACTS
Label: Alex Almqvist, LoudKult
Publishing: Available
Legal: Mark Ashelford, Russells
Management: Mark Walker, Free Focus
RECORD ARCHIVE
Label: unsigned/AWAL
Grabbing your attention straight from the start is this heartfelt, indie pop gem from rising... Label: Within Temptation Entertainment
Dutch rock behemoths Within Temptation are back with this fresh blast of rock goodness to... Label: Propeller Recordings
Let us introduce you to the gorgeous sounds of 22 year old singer-songwriter Archie Langley... Label: Island
Premiered by DJ Target on 1Xtra on Monday, this sublime dose of sultry, jazz-flecked R&B... Label: Project Melody
This gorgeous debut track is from north London duo Dust In The Sunlight. Singer-songwriters Billy... Label: RCA Records
Now we're pretty confident you're aware of this soulful and beautiful single from Australian-born singer-songwriter... Label: self release
This insanely addictive and flamboyant blend of glam-rock, pop, and post-punk is the latest release... Label: Friday Music
We do love a slice of euphoric pop here at RotD, especially in times like... Label: Odina
Premiered on Dork and released yesterday (28 April), 1,2,3,4 is the gorgeous self-produced, self-written and... Label: unsigned
It's been nearly ten months since we last featured Northern Irish band Hunkpapa and their sublime... Label: Exotic Creatures
Dance Lessons certainly know how to impress with this deliciously sultry blend of jazz, soul... Label: unsigned via AWAL
Last year, we introduced you to the silky voice of Italian-born London-based singer-songwriter Alice Pisano... Label: YOUTH LTD/Believe UK
This unashamedly leftfield slice of pop with its infectious melody and political twist is the... Label: XVII Music Group
22 year old London-born artist CHINCHILLA is an artist who is supremely confident in her... Label: 3Beat
We've been big supporters of Scottish multi-instrumentalist Callum Beattie and his knack of crafting euphoric... Label: 2220 Records
To ease you into your lockdown Monday morning, we have this cool, deep indie-electronic number...