Label: Within Temptation Entertainment

Notice: Trying to access array offset on value of type null in /home2/recordof/public_html/on-the-move/track.php on line 88
...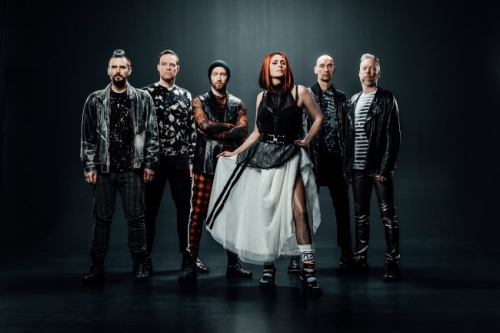 11 May 2020
Within Temptation Entertainment
WE SAY
Dutch rock behemoths Within Temptation are back with this fresh blast of rock goodness to kickstart your week. Having sold millions of albums worldwide and achieved over 30 Gold and Platinum statuses in numerous countries, the group have dropped their first new music since their 150 million streamed album, RESIST, last year. Released on Friday (8 May) and featuring on numerous streaming new release programming (Spotify, Apple Music), Entertain You is full of high octane energy showing a new side to their music, with a more pronounced heavy rock sound than before while maintaining their powerful lyrics and addictive choruses. It also marks a new beginning for the band with them now releasing their music independently and also switching their focus to releasing multiple singles a year instead of an album to ensure a constant flow of music. Expect to see this added to rock and metal playlists, as well as tastemaker support from the likes of Kerrang!, Metal Hammer and Classic Rock over the next week or so. After playing various international, sold out arena-tours, the band will embark on a massive co-headline tour with Evanescence in September 2020, which has sold over 150,000 tickets in eight countries, including a show at the 02 in London (6 Sept). So until then, let's turn this up to max and rock out.
CONTACTS
Label: Within Temptation Entertainment B.V.
Radio: Austin Collins, AC Promotions
Online & Print Press: William Luff, Wilful Publicity
Live: Paul Bolton, X-Ray Touring
Management: Martijn Swier, Endless Music
RECORD ARCHIVE
Label: Propeller Recordings
Let us introduce you to the gorgeous sounds of 22 year old singer-songwriter Archie Langley... Label: Island
Premiered by DJ Target on 1Xtra on Monday, this sublime dose of sultry, jazz-flecked R&B... Label: Project Melody
This gorgeous debut track is from north London duo Dust In The Sunlight. Singer-songwriters Billy... Label: RCA Records
Now we're pretty confident you're aware of this soulful and beautiful single from Australian-born singer-songwriter... Label: self release
This insanely addictive and flamboyant blend of glam-rock, pop, and post-punk is the latest release... Label: Friday Music
We do love a slice of euphoric pop here at RotD, especially in times like... Label: Odina
Premiered on Dork and released yesterday (28 April), 1,2,3,4 is the gorgeous self-produced, self-written and... Label: unsigned
It's been nearly ten months since we last featured Northern Irish band Hunkpapa and their sublime... Label: Exotic Creatures
Dance Lessons certainly know how to impress with this deliciously sultry blend of jazz, soul... Label: unsigned via AWAL
Last year, we introduced you to the silky voice of Italian-born London-based singer-songwriter Alice Pisano... Label: YOUTH LTD/Believe UK
This unashamedly leftfield slice of pop with its infectious melody and political twist is the... Label: XVII Music Group
22 year old London-born artist CHINCHILLA is an artist who is supremely confident in her... Label: 3Beat
We've been big supporters of Scottish multi-instrumentalist Callum Beattie and his knack of crafting euphoric... Label: 2220 Records
To ease you into your lockdown Monday morning, we have this cool, deep indie-electronic number... Label: FrtyFve
London-based Irish artist Fia Moon offers a glimpse of positivity in this gorgeous slice of... Label: Dot Dash
Drawing comparisons to Mazzy Star, Angel Olsen and Stevie Nicks is an Australian singer-songwriter Gena...