Label: Red Sun Records
...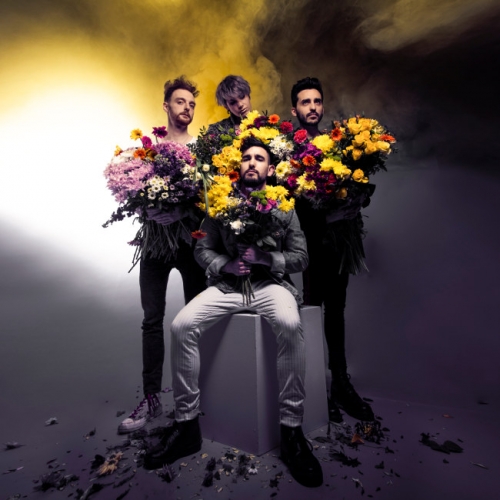 18 Oct 2019
WE SAY
With one of the most anthemic and expansive rock offerings we've heard in a long time, let us introduce you to Electric Enemy. The London-based four-piece, who have been honing their grandiose heavy pop sound for the past two years, made their breakthrough early this summer when they opened the main stage at the Isle of Wight festival and released their debut track Climb. The track went on to feature in Spotify's Hot New Bands and Amazon's Best New Bands editorial playlists. Last month, they headlined the International Festival Forum 'Solo Presents' stage at The Monarch in London to a packed out industry audience, which led to further festival bookings. Now they are back with this tightly produced blast of rock goodness, full of powerful guitar riffs, melodic piano motifs, and one hell of a chorus, all set to lift your spirits and deliver a powerful message. Watch the video here. It's the kind of song we can see easily being picked up for sync to a big American TV series or Hollywood action/comic-book film, it's that epic. They are currently recording their debut album with producer Sam Miller (Paloma Faith, Razorlight) to be released next year, but you can hear more from them next Thursday (24 October) when they support Bang Bang Romeo at Omeara in London. They may be wearing their influences on their sleeves but with melodic hooks and anthemic choruses like this, who cares, this is rock music at its finest.
CONTACTS
Label: Lisa Stanway, Red Sun Records
National Radio: Richard Perry, RPPR
TV: Joggs Camfield, Nine Black
Live: Richard Barber & John Giddings, Solo Agency
Management: Lisa Stanway, VDR Management
RECORD ARCHIVE
Label: Chiverin
Not shy of a funky bassline and smooth vibe is this absolute joy from Bristol-based... Label: The Other Songs
This super addictive and kitsch pop debut is from Sweden's EEVA, aka Emelie Eriksson -... Label: Atlantic Records
Maisie Peters is an artist we have been keeping tabs on since we heard her... Label: Self released
Instantly grabbing your attention right from the start is this expansive and highly emotive number... Label: Juicebox Recordings under exclusive license to AWAL Recordings
It's time to get your Friday freak on with this funky and massive tune from... Label: Don't Try X Antigen (Kartel Music Group)
Three years ago we introduced you to the melodic indie rock sounds of Manningtree's SuperGlu. They... Label: Stargazer
It's been over 16 years since we have heard new music from BRIT and Ivor... Label: self release - Fossil Boy Records
Now here is something to inject a bit of youthful energy into you this morning... Label: MADE Records
Released at the end of September and featuring on Spotify's New Music Friday UK, Stuck... Label: Five Seven Music / Eleven Seven Label Group
Now here's a song with masses of potential to become a future hit. Instantly engaging... Label: Rubyworks
Back in 2017, we introduced you to Irish singer-songwriter David Keenan and his remarkable gift... Label: 37 Adventures
22 year old Elle Charms is the latest new pop signing to 37 Recordings, the... Label: Self-released / Level distribution
British Iranian artist Orchid delivers a rather feisty slice of electro-pop in her new release,... Label: deepdive records
Formed in 2016 by two multi-instrumentalists, Maryam Hammad and Aurèle Louis, MAREY are a band... Label: Polygonia Music
Two parts British, one part German, and one part Australian, Wide Eyed Boy are an... Label: Eggy Records
Premiered on Stereogum and receiving its first radio play on Tuesday by Huw Stephens on...