Label: Self released
...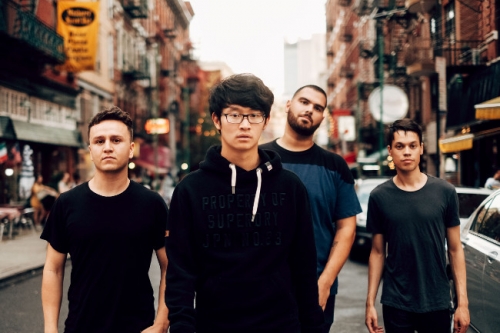 14 Oct 2019
The Swoons
Conspiracy of Silence
WE SAY
Instantly grabbing your attention right from the start is this expansive and highly emotive number from indie-pop group The Swoons. Consisting of Trevor Myall (vocals, guitar), Matt Underwood (vocals, guitar, bass), Tony Ann (piano, harmonies) and Giacomo Timbrello (guitar, bass, harmonies), the band met at Boston's Berklee College of Music, and now with the recent addition of Myall are embarking on their next evolution in sound. Written and produced by the band, Conspiracy of Silence effortlessly builds from a gorgeous piano melody into a hauntingly beautiful number with emotive synths, gospel flourishes and rich harmonies. With over 5m combined streams behind them and Ann who also has three co-writes with the Chainsmokers (Sick Boy, Side Effects & Call You Mine), the band are already attracting strong interest from labels and publishers both here in the UK and the US. They are currently in London for co-writing sessions with Ed Sheeran collaborators Jake Gosling and Amy Wadge, Eg White (Adele, Florence + The Machine) and Sasha Skarbek (Lana Del Rey), but will be playing a free show tomorrow (15 October) presented by Live Nation at the Islington in London (onstage at 8pm), which would very be a good time to catch this exciting new band before they get big.
CONTACTS
Management and all other enquiries: Cathy Mathalone, Conchord Management
RECORD ARCHIVE
Label: Juicebox Recordings under exclusive license to AWAL Recordings
It's time to get your Friday freak on with this funky and massive tune from... Label: Don't Try X Antigen (Kartel Music Group)
Three years ago we introduced you to the melodic indie rock sounds of Manningtree's SuperGlu. They... Label: Stargazer
It's been over 16 years since we have heard new music from BRIT and Ivor... Label: self release - Fossil Boy Records
Now here is something to inject a bit of youthful energy into you this morning... Label: MADE Records
Released at the end of September and featuring on Spotify's New Music Friday UK, Stuck... Label: Five Seven Music / Eleven Seven Label Group
Now here's a song with masses of potential to become a future hit. Instantly engaging... Label: Rubyworks
Back in 2017, we introduced you to Irish singer-songwriter David Keenan and his remarkable gift... Label: 37 Adventures
22 year old Elle Charms is the latest new pop signing to 37 Recordings, the... Label: Self-released / Level distribution
British Iranian artist Orchid delivers a rather feisty slice of electro-pop in her new release,... Label: deepdive records
Formed in 2016 by two multi-instrumentalists, Maryam Hammad and Aurèle Louis, MAREY are a band... Label: Polygonia Music
Two parts British, one part German, and one part Australian, Wide Eyed Boy are an... Label: Eggy Records
Premiered on Stereogum and receiving its first radio play on Tuesday by Huw Stephens on... Label: [PIAS]
Back in May, we featured the exquisite and dreamy soundscapes of rising Belgium band Portland... Label: Rough Bones/Kobalt
19 year old Dubliner KEHLI burst on to the scene earlier this year with her debut track One... Label: Island Records
We have been big fans of London-based group Flyte since we featured them back in... Label: Self released via AWAL
From an early age, American-born singer-songwriter Remi Miles grew up listening to a vast range...