Label: Chiverin
...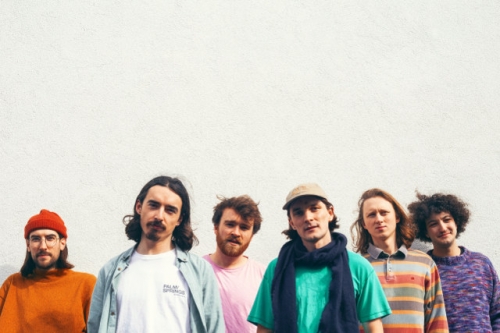 17 Oct 2019
WE SAY
Not shy of a funky bassline and smooth vibe is this absolute joy from Bristol-based six-piece Cousin Kula. The group, who are all highly active members of Bristol's progressive jazz music scene, have been gaining a reputation for their brand of psych-pop goodness, with the likes of Complex, the Line of Best Fit, NME, and Clash all shouting their praise. Released yesterday (16 October), Invitation is taken from their forthcoming Stroodles EP, which will be released on a blue 12" vinyl in November and include the previously released Oodles EP on the reverse. With its euphoric dancefloor build and funky groove driving this refreshingly cool and breezy number, it's destined for inclusion on mellow and chill-out playlists. In support of the EP release, the group will be heading out for a UK tour this November and will play the Electrowerkz in London on 18 November.
CONTACTS
Label & Management: Aled Chivers, Chiverin
National Radio: Tom Poole, Kartel Music Group
Online & Press: Joly Checketts, Kartel Music Group
Live: James Osgood, United Talent
RECORD ARCHIVE
Label: The Other Songs
This super addictive and kitsch pop debut is from Sweden's EEVA, aka Emelie Eriksson -... Label: Atlantic Records
Maisie Peters is an artist we have been keeping tabs on since we heard her... Label: Self released
Instantly grabbing your attention right from the start is this expansive and highly emotive number... Label: Juicebox Recordings under exclusive license to AWAL Recordings
It's time to get your Friday freak on with this funky and massive tune from... Label: Don't Try X Antigen (Kartel Music Group)
Three years ago we introduced you to the melodic indie rock sounds of Manningtree's SuperGlu. They... Label: Stargazer
It's been over 16 years since we have heard new music from BRIT and Ivor... Label: self release - Fossil Boy Records
Now here is something to inject a bit of youthful energy into you this morning... Label: MADE Records
Released at the end of September and featuring on Spotify's New Music Friday UK, Stuck... Label: Five Seven Music / Eleven Seven Label Group
Now here's a song with masses of potential to become a future hit. Instantly engaging... Label: Rubyworks
Back in 2017, we introduced you to Irish singer-songwriter David Keenan and his remarkable gift... Label: 37 Adventures
22 year old Elle Charms is the latest new pop signing to 37 Recordings, the... Label: Self-released / Level distribution
British Iranian artist Orchid delivers a rather feisty slice of electro-pop in her new release,... Label: deepdive records
Formed in 2016 by two multi-instrumentalists, Maryam Hammad and Aurèle Louis, MAREY are a band... Label: Polygonia Music
Two parts British, one part German, and one part Australian, Wide Eyed Boy are an... Label: Eggy Records
Premiered on Stereogum and receiving its first radio play on Tuesday by Huw Stephens on... Label: [PIAS]
Back in May, we featured the exquisite and dreamy soundscapes of rising Belgium band Portland...