Label: The Other Songs
...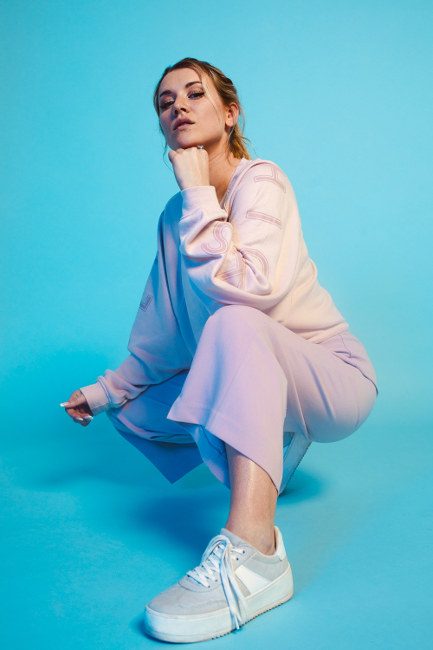 16 Oct 2019
EEVA
Jimmy From The Gym
WE SAY
This super addictive and kitsch pop debut is from Sweden's EEVA, aka Emelie Eriksson - one of the country's hottest young songwriters. Having grown up in Oskarshamn, a small Swedish town, she first found fame when a song she wrote for a friend's wedding went viral. After that, she became one of the first-ever students at the Dreamhill Music Academy, established by Swedish pop legend Anders Bagge (Madonna, J.Lo and Janet Jackson), and has now written for Anastacia, Becky G, Kaiser Chiefs, and Mike Perry as part of the team at Baggpipe Studios in Stockholm. Signed to The Other Songs (RuthAnne, Mabes), this buoyant dose of contemporary bubblegum pop featured on Spotify UK's New Music Friday upon release at the end of last month and has since been added to Fresh Finds and Pop Right Now editorial playlists. With its quirky lyrics and upbeat nature, it's great to see an artist just being herself and having fun, without trying to conform to the standard pop norms. Just brilliant.
CONTACTS
Label: Billy Webber, The Other Songs
Publishing: Alvora Larsdotter, Baggpipe Studios
Publicity: Stuart Freeman, Think Social
Management: Alex Gardner
RECORD ARCHIVE
Label: Atlantic Records
Maisie Peters is an artist we have been keeping tabs on since we heard her... Label: Self released
Instantly grabbing your attention right from the start is this expansive and highly emotive number... Label: Juicebox Recordings under exclusive license to AWAL Recordings
It's time to get your Friday freak on with this funky and massive tune from... Label: Don't Try X Antigen (Kartel Music Group)
Three years ago we introduced you to the melodic indie rock sounds of Manningtree's SuperGlu. They... Label: Stargazer
It's been over 16 years since we have heard new music from BRIT and Ivor... Label: self release - Fossil Boy Records
Now here is something to inject a bit of youthful energy into you this morning... Label: MADE Records
Released at the end of September and featuring on Spotify's New Music Friday UK, Stuck... Label: Five Seven Music / Eleven Seven Label Group
Now here's a song with masses of potential to become a future hit. Instantly engaging... Label: Rubyworks
Back in 2017, we introduced you to Irish singer-songwriter David Keenan and his remarkable gift... Label: 37 Adventures
22 year old Elle Charms is the latest new pop signing to 37 Recordings, the... Label: Self-released / Level distribution
British Iranian artist Orchid delivers a rather feisty slice of electro-pop in her new release,... Label: deepdive records
Formed in 2016 by two multi-instrumentalists, Maryam Hammad and Aurèle Louis, MAREY are a band... Label: Polygonia Music
Two parts British, one part German, and one part Australian, Wide Eyed Boy are an... Label: Eggy Records
Premiered on Stereogum and receiving its first radio play on Tuesday by Huw Stephens on... Label: [PIAS]
Back in May, we featured the exquisite and dreamy soundscapes of rising Belgium band Portland... Label: Rough Bones/Kobalt
19 year old Dubliner KEHLI burst on to the scene earlier this year with her debut track One...