Label: Relentless Records
...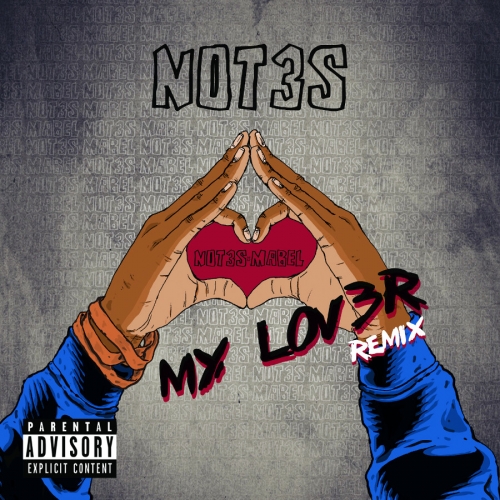 11 Dec 2017
WE SAY
London rapper Not3s is enjoying a remarkable year and is ending on a high with this massive remix of My Lover with Brits Critics' Choice nominee, Mabel. The original version entered the Top 40 and featured on his debut EP Take Not3s, which has so far clocked up over 37 million combined streams since its release on 17 November. The remix sees the track maintain its tender and downbeat nature with Mabel's soulful vocals adding a luscious counter verse to this beautiful song. With Radio 1, Kiss FM and Kiss Fresh all adding it straight to their playlists and Spotify featuring it on nine New Music Friday playlists (including the UK & FR) on the day of release (8 December), the remix is shaping up to be another hit for this charismatic and young talent from Hackney. After concluding a sold-out UK tour this autumn including an appearance at 1Xtra Live in Manchester he has been added to the BBC Sound of 2018 long list and MTV's Brand New for 2018. With a GRM Daily Rated award for Best Breakthrough Artist and two MOBO nominations under his belt this year, we can't wait to hear what's next from Not3s in 2018. All we know is it's going to be a big year for him.
CONTACTS
Label: Hannah Colson, Relentless Records
Publishing: Carlyn Calder, Sony/ATV
National Radio: Chris Slade, Blueprint
Regional Radio: Martin Finn
Press: Rob Chute, Toast Press
TV: Pippa Evers, Dawbell
Club: Tracey Webb, Power
Live: Obi Asika / Jack Clark, Echo Location
Management: Fola Adeyemi, Too Loud Entertainment
RECORD ARCHIVE
Label: Gatcombe Music
Released today (8 December), Hold Me Close, is the latest release from 22-year-old Sydney-based musician... Label: Sound Lounge Records
Like many of us, Hannah White felt a huge outpouring of compassion from seeing the... Label: Gari Recs
For the past two years, Anabel Englund, Human Life, Matt Ossentjuk and Mont Blvck have been creating... Label: unsigned
Lauran Hibberd impresses us once more with her latest single Hunny Is This What Adults... Label: Distiller Records
We have been big admirers of Anteros' brand of indie pop ever since we heard... Label: SYCO Music
5 After Midnight are creating a buzz amongst fans with the latest track Flowers. A... Label: unsigned
Guilty by Scottish singer-songwriter Tommy Ashby is a beautifully brooding and hypnotic listen. Recorded in... Label: Eget Selskap
Be prepared for an intoxicating sensory experience of the highest calibre, as we introduce you... Label: unsigned
Smooth, haunting vocals, underpinned by dramatic brooding electro-synth beats were all that were needed to... Label: unsigned
We previously featured London-based artist RENÉ back in December last year with her brooding and... Label: RCA
Many male X Factor winners have a history of not reaching their full potential. Last... Label: Heart Achers Records
The haunting falsetto vocal of 27-year-old singer-songwriter LUCA is something truly special to behold. His... Label: LV Music
We were instantly hooked by OH, the superb new single from Scottish alt-pop band Dancing... Label: unsigned
Ghetto Style, the debut single by south east Londoners Stephan Benson and Jeff Okyere aka... Label: Decca Records
We first featured The Wandering Hearts back in May this year with their glorious debut... Label: Good Soldier Records
Sung with only a piano for accompaniment, Lost Without You, the third single from Freya...