Label: Distiller Records
...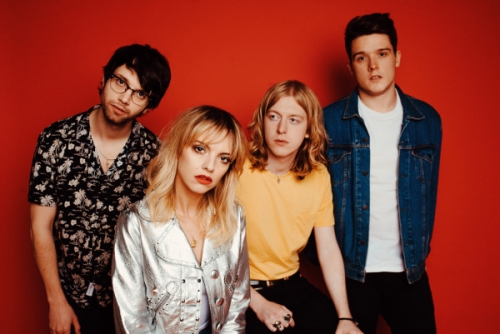 04 Dec 2017
WE SAY
We have been big admirers of Anteros' brand of indie pop ever since we heard their brilliant Drunk EP and saw them at The Great Escape Festival earlier this year. Fronted by Laura Hayden, the London-based band's latest single, Love, is an absolute gem. Released last Friday (1 December) and produced by Charlie Andrew (Alt-J, Marika Hackman, Bloc Party), the track is full of new-wave pop sensibilities, '90s swagger and vocal sensuality reminiscent of Blondie, The Cardigans and The Dandy Warhols. The band are currently in the studio recording their debut album after a busy year touring with the likes of Two Door Cinema, Sundara Karma, Yonaka and Blaenavon as well as performing at the Secret Garden Party, Glastonbury and Reading and Leeds festivals. With over 2.3m combined streams and tastemaker support from the likes Huw Stephens at Radio 1, Wonderland Magazine, DIY, Clash, NME and Vogue, 2018 is shaping up to be a big year for the band. And with music this good, what's not to love.
CONTACTS
Label Contact: Allie Bailey, Distiller Records, +44 (0)20 3327 2290,
Publishing Contact: Chris Nenadich, Beckett Publishing
National Radio: Olivia Whitton, YesPlease!, +44 (0)20 3740 7206
Online/Press: Andy Glancy (online) and Jade Foster (press), DawBell, +44 (0)203 327 7164
Live: Matt Bates, Primary Talent +44 (0)20 7400 4500
Management: Jasmin Wilkes, Prolifica, +44 (0)20 8740 9920
RECORD ARCHIVE
Label: SYCO Music
5 After Midnight are creating a buzz amongst fans with the latest track Flowers. A... Label: unsigned
Guilty by Scottish singer-songwriter Tommy Ashby is a beautifully brooding and hypnotic listen. Recorded in... Label: Eget Selskap
Be prepared for an intoxicating sensory experience of the highest calibre, as we introduce you... Label: unsigned
Smooth, haunting vocals, underpinned by dramatic brooding electro-synth beats were all that were needed to... Label: unsigned
We previously featured London-based artist RENÉ back in December last year with her brooding and... Label: RCA
Many male X Factor winners have a history of not reaching their full potential. Last... Label: Heart Achers Records
The haunting falsetto vocal of 27-year-old singer-songwriter LUCA is something truly special to behold. His... Label: LV Music
We were instantly hooked by OH, the superb new single from Scottish alt-pop band Dancing... Label: unsigned
Ghetto Style, the debut single by south east Londoners Stephan Benson and Jeff Okyere aka... Label: Decca Records
We first featured The Wandering Hearts back in May this year with their glorious debut... Label: Good Soldier Records
Sung with only a piano for accompaniment, Lost Without You, the third single from Freya... Label: Asylum/Atlantic Records
Sober from 19-year-old singer-songwriter Mahalia is an exquisite R&B gem that showcases why she is a rising star... Label: unsigned
Okay is the moving debut single from London based singer Ava Rene. Produced and co-written with Darren... Label: Mar Music
R&B is in an ascendancy right now and while we're celebrating rising British talent like... Label: 3beat
Miracle, the new single from Callum Beattie is an empowering, life affirming track with rich... Label: unsigned
Minus is an amazing new track to stimulate the senses. This alt-pop anthem from COLOUR...