Label: Gari Recs
...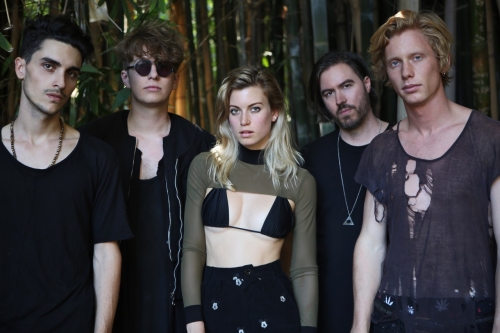 06 Dec 2017
WE SAY
For the past two years, Anabel Englund, Human Life, Matt Ossentjuk and Mont Blvck have been creating a buzz and passionate following in Los Angeles with their unique sensory experiences as Gari Safari. The collective's distinct events are soundtracked by their love of sultry house and techno music through live performances and traditional DJs that have become well known throughout the LA underground scene. Rising is the first release from their own record label, Gari Recs, and is a sumptuously euphoric listen. The melodic, synth-driven burner builds around the pulsating beats and alluring vocals of Anabel to its ecstatic conclusion, and is already garnering praise from tastemakers such as Notion, Clash, Mixmag, and Dancing Astronaut. With remixes from Amtrac, wAFF and SHADED receiving premieres with Pete Tong, Danny Howard and Monki on BBC Radio 1, as well as plays on Triple J and KCRW in the US, the group's calling card to the world is making a seriously good impression.
CONTACTS
Label Contact: Matthew Wasley, Gari Recs, +1 (310) 729-1986
National Radio, Press & Online: Roo Farndon, Rood Media, +44 (0)7973 366301
Club: Tom Currie, Your Army, +44 (0)20 8964 6700
Live: North & South America, Jazz Spinder, CAA, +1 (424) 288-2735 / Rest Of The World, Roman Trystram, CAA
Management: Anabel Englund - Mark Harris, Cover Art Entertainment, +1 (323) 377-7861/Human Life
Roo Farndon, Rood Media, +44 (0)7973 366301

RECORD ARCHIVE
Label: unsigned
Lauran Hibberd impresses us once more with her latest single Hunny Is This What Adults... Label: Distiller Records
We have been big admirers of Anteros' brand of indie pop ever since we heard... Label: SYCO Music
5 After Midnight are creating a buzz amongst fans with the latest track Flowers. A... Label: unsigned
Guilty by Scottish singer-songwriter Tommy Ashby is a beautifully brooding and hypnotic listen. Recorded in... Label: Eget Selskap
Be prepared for an intoxicating sensory experience of the highest calibre, as we introduce you... Label: unsigned
Smooth, haunting vocals, underpinned by dramatic brooding electro-synth beats were all that were needed to... Label: unsigned
We previously featured London-based artist RENÉ back in December last year with her brooding and... Label: RCA
Many male X Factor winners have a history of not reaching their full potential. Last... Label: Heart Achers Records
The haunting falsetto vocal of 27-year-old singer-songwriter LUCA is something truly special to behold. His... Label: LV Music
We were instantly hooked by OH, the superb new single from Scottish alt-pop band Dancing... Label: unsigned
Ghetto Style, the debut single by south east Londoners Stephan Benson and Jeff Okyere aka... Label: Decca Records
We first featured The Wandering Hearts back in May this year with their glorious debut... Label: Good Soldier Records
Sung with only a piano for accompaniment, Lost Without You, the third single from Freya... Label: Asylum/Atlantic Records
Sober from 19-year-old singer-songwriter Mahalia is an exquisite R&B gem that showcases why she is a rising star... Label: unsigned
Okay is the moving debut single from London based singer Ava Rene. Produced and co-written with Darren... Label: Mar Music
R&B is in an ascendancy right now and while we're celebrating rising British talent like...