Label: Sound Lounge Records
...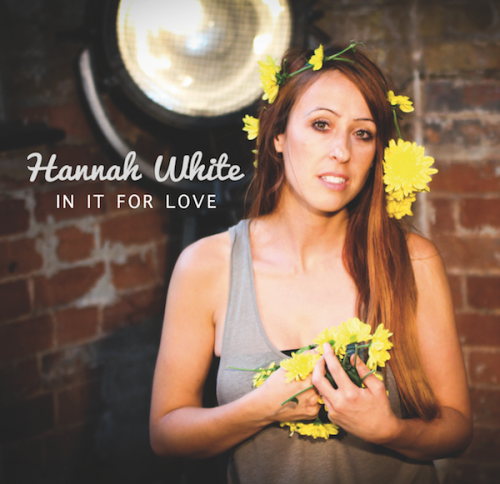 07 Dec 2017
WE SAY
Like many of us, Hannah White felt a huge outpouring of compassion from seeing the desperation of refugees in 2016. Determined to make a difference, she spent much of last year travelling between home and the refugee camp in Calais, sharing meals and music and listening to their hopes and stories of home. Needing to do something positive in a sea of helplessness, Hannah wrote In It For Love. Beautifully sung in a soft acoustic country style, In It For Love has enjoyed fabulous support across the BBC radio network including playing two songs live on Gaby Roslin's BBC London show and chosen as Featured Artist by Gary Crowley. She'll be performing a live TV session in January for The Box and has shows lined up for London's Hospital Club on 30 January and The Sound Lounge on 8 February. Press including Acoustic, Fatea and Country People magazine are also abundant with praise. We expect big things for her new album Elephant Eye which is produced by Nigel Stonier (Martha Wainwright, Joan Baez) and will be released in early February. All this attention mixed with Hannah's joyful spirit and her truly special voice will attract committed fans and will take her a long, long way.
CONTACTS
Label / Publishing: Keiron Marshall, Sound Lounge
Radio / TV: Geri Perry, GB Music Team
Online / Press: Geri Perry, GB Music Team
Live: Keiron Marshall, Sound Lounge
Management: Keiron Marshall, Sound Lounge
RECORD ARCHIVE
Label: Gari Recs
For the past two years, Anabel Englund, Human Life, Matt Ossentjuk and Mont Blvck have been creating... Label: unsigned
Lauran Hibberd impresses us once more with her latest single Hunny Is This What Adults... Label: Distiller Records
We have been big admirers of Anteros' brand of indie pop ever since we heard... Label: SYCO Music
5 After Midnight are creating a buzz amongst fans with the latest track Flowers. A... Label: unsigned
Guilty by Scottish singer-songwriter Tommy Ashby is a beautifully brooding and hypnotic listen. Recorded in... Label: Eget Selskap
Be prepared for an intoxicating sensory experience of the highest calibre, as we introduce you... Label: unsigned
Smooth, haunting vocals, underpinned by dramatic brooding electro-synth beats were all that were needed to... Label: unsigned
We previously featured London-based artist RENÉ back in December last year with her brooding and... Label: RCA
Many male X Factor winners have a history of not reaching their full potential. Last... Label: Heart Achers Records
The haunting falsetto vocal of 27-year-old singer-songwriter LUCA is something truly special to behold. His... Label: LV Music
We were instantly hooked by OH, the superb new single from Scottish alt-pop band Dancing... Label: unsigned
Ghetto Style, the debut single by south east Londoners Stephan Benson and Jeff Okyere aka... Label: Decca Records
We first featured The Wandering Hearts back in May this year with their glorious debut... Label: Good Soldier Records
Sung with only a piano for accompaniment, Lost Without You, the third single from Freya... Label: Asylum/Atlantic Records
Sober from 19-year-old singer-songwriter Mahalia is an exquisite R&B gem that showcases why she is a rising star... Label: unsigned
Okay is the moving debut single from London based singer Ava Rene. Produced and co-written with Darren...