Label: unsigned

Notice: Trying to access array offset on value of type null in /home2/recordof/public_html/on-the-move/track.php on line 88
...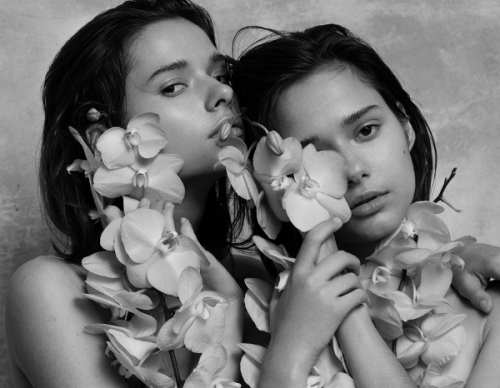 23 Feb 2018
WE SAY
London-based Ukrainian dark-pop duo Bloom Twins first came to our attention back at the start of summer 2016, when we featured their smart and sassy song, Amnesia. As their name suggests, the pair are 21-year-old identical twin sisters Sofia and Anna Kuprienko and their latest offering, She's Not Me, released last week, is a gloriously elegant, electro-noir affair driven by an infectious percussive beat. Tastemakers Clash, The Sunday Times, Guardian, and MTV are among their admirers, alongside Duran Duran, Seal and Nile Rodgers who they have supported on tours across Europe and the Far East. Away from the music, they are signed to Models 1, which has helped them garner profile pieces in Hunger, Wonderland, Vogue, Numero, and iD. With more new music to come later in the year and a headline show at London's Camden Assembly on 17 May, Bloom Twins look set to continue to make waves in both the music and fashion worlds.
CONTACTS
Press: Ant Giannaccini, Dawbell
Online: Lauren Webb, Dawbell
Live & Management: Lenka Chubuklieva, LCUK Artists
RECORD ARCHIVE
Label: Sony France
It's been 20 years since JB Dunckel, one half of seminal French duo, Air, released... Label: 300 Entertainment
Welles is the Arkansas-based project of 23-year-old singer, and multi-talented musician Jesse Wells, and within... Label: Bright Star / Universal
Velvet Heart, the latest track from Bristol-born singer-songwriter Rothwell, is a gorgeous slice of upbeat... Label: Hot Hot/Polydor
Back in September, we featured the irresistible pop single, Raincheck, from Surrey-born singer Hannah Jane... Label: V2 Records Benelux
Fronted by the charismatic Megan de Klerk, Amsterdam based five-piece EUT craft infectious, alternative post-pop anthems... Label: unsigned
We first brought the talented singer-songwriter ECKOES to your attention back in October last year... Label: The Animal Farm
Hazey Jane are an indie-folk quartet from Hackney in London who combine traditional folk storytelling... Label: unsigned
Drenched with soothing tones and a luscious, soulful vocal, Holding On by Swedish artist Thea... Label: Self Release via Kobalt
Grabbing your attention right from the start with a sense of foreboding and high drama,... Label: Decca Records
Regular readers will know of our admiration for the gorgeous vocal harmonies of the London-based group... Label: Sony Music Mexico
Danza de Gardenias is the lead track from Latin American superstar Natalia Lafourcade's brand new... Label: 37 Adventures
Six months on from dropping her brilliant debut single, Waves, Bolton born vocalist and producer... Label: self released
Rising from a burgeoning urban scene in Ireland, Tebi Rex are an alternative hip hop... Label: Don't Call Me Dave / Since93
London based artist ARLO kicks off 2018 with an expansive dose of grandiose alt-pop in... Label: Quite Defiant Records
Released today, Fresh Product, is the sublime new single from rising Camden rapper AWATE's forthcoming... Label: Yotanka Records
Tample are a fantastic quartet from Bordeaux who create addictive pop music with an indie...