Label: Beautiful Noise
...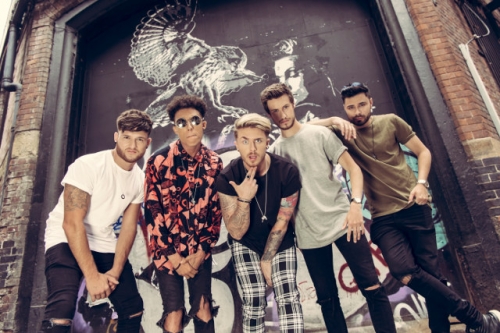 26 Jan 2018
WE SAY
Hailing from Manchester, Y.O.U.N.G are a five-piece who formed just over a year ago and are gaining considerable momentum with an online fanbase fast approaching 150k combined followers. Their new single, released today, blends chilled hip-hop beats and mellow reggae guitars with a bleary-eyed flow and a '90s tinged production to create an infectious laid-back anthem. Previous singles, What I Gotta Do, a social media only release, clocked up over 1.2m Facebook plays, whilst Exposure, has amassed over 250k on YouTube, entered the top ten in Music Week's club charts and gained plays on BBC Introducing and Radio X. Comprising of Chez Davies (vocals/guitar), Ben James (rapper), James Skehan (guitar/production), Tom Whitehead (bass) and Graeme Smith (drums), the group are preparing to play their first ever UK headline tour in association with Live Nation through February and March, including a show at London, Camden Assembly on 4 March.
CONTACTS
Label Contact: David Cameron-Pryde, Beautiful Noise Records, +44 (0)7968 156503
Campaign Manager: Matt Dixon, band2market, +44 (0)7909 907913
Publishing Contact: Copyright Control
National Radio: Mark Murphy, Dawn Promotions, +44 (0)7711 592455
Regional Radio: Jessica Hall, Radio Active, +44 (0)7788 922960
National and Online Press: William Luff, +44 (0)7909 998123 and David Sullivan, +44 (0)7975 725519, Wilful Publicity
Regional Press: Warren Higgins & Simon Neal, Chuff Media, +44 (0)7445 256291
TV: Emma Guirao, G Force, +44 (0)7909 997998
Club: Tracey Webb, Power Promotions, +44 (0)7971 577963
Student & Lifestyle: Chris Smith & Kieran Wilkinson, Renegade Music
Sports: Tom Roberts, Shoot Promotions, +44 (0)7831 613165
Sales & Distribution: Maddy Endrighi, PIAS, +44 (0)20 7471 2700
Live: Toby Johnson, Cuffe & Taylor (Live Nation) +44 (0)7427 634285
Management: David Cameron-Pryde / Den Davis, Republic Music Management, +44 (0)7968 156503
RECORD ARCHIVE
Label: Two Six Records
With over 1.5m combined streams, Oxfordshire songwriting duo Tom McCorkell and William Edwards, aka OMYO,... Label: Elephant & Castle
French artist Timsters shapes a rather mesmerising dose of modern pop in his new single... Label: delimusic
Delight in the widescreen sound of A Wondrous Place of Our Own by Liverpudlian singer... Label: LV Music
Brilliant Scottish indie-pop band Dancing On Tables kick off the year with a brand new... Label: Navigator Records
Released today (19 January), Ebb & Flow is the latest single from singer-songwriter Ross Wilson, aka... Label: Graphite Records
The Daylight Hotel, the lead track from Ginger Wildheart's new album Ghost In Tanglewood (out... Label: Self Released
L.A.D are a synth-funk trio from Reading with a shared love of '80s nostalgia. Multi-instrumentalists... Label: Memphis Industries
If you are attending Eurosonic over the next few days, Malihini are a noteworthy duo... Label: Fenne Lily
Fenne Lily is an exceptional new artist with an amazing 30 million+ streaming plays from... Label: UAP/ 7Hz (Warner ADA)
If a healthy dose of pop/punk inflamed guitars is needed to kickstart 2018, look no... Label: Robbins Entertainment
LA-based DJ and producer duo West Coast Massive are shaping up to be the next... Label: 37 Adventures
Back at the end of 2016 we featured the supremely catchy debut track, Take It... Label: LME Records
To The Edge, the latest track from Croydon born singer Asha, is a beautifully sparse,... Label: West Winds Music
Filled with positivity and an upbeat tone, Love For The People, by Dublin-born singer-songwriter Miles... Label: Stride Records
Up-and-coming singer-songwriter Ben Brown starts 2018 in an optimistic mood with the release today of... Label: Self Released
Sleeping in Suburbia, the next single from south London-based singer-songwriter Martha Paton is a beautiful...