Label: Tonique Records/Idol

Notice: Trying to access array offset on value of type null in /home2/recordof/public_html/on-the-move/track.php on line 88
...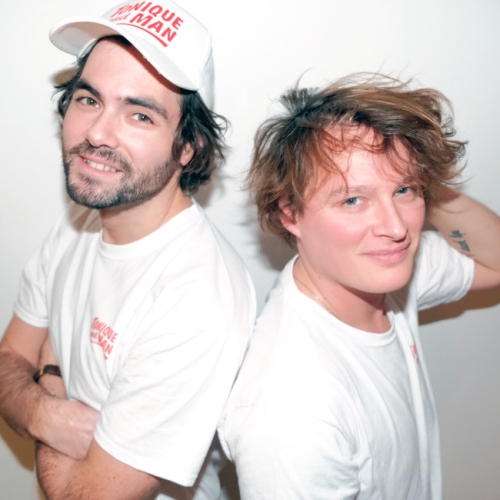 08 Feb 2023
WE SAY
There is something undeniably funky and cool about this slice of irreverent fun from French production/musician duo Tonique & Man (Jean Tonique and Mi Man). Channelling a heady dose of '70s nostalgia fused with off-kilter melodies and wry lyricism, Running After Time is a unique blend of feel-good sounds with echoes of the Bee Gees and Daft Punk. Written about a guy who is always late, the track is the first to be released from their debut solo album, Opening Soon, out later this year. Watch the mouth-watering accompanying video about pizza (their favourite food) here. It's early days for the duo, tastemaker wise, but solo music from Jean Tonique have featured on DJ Mag, Noctis, Metal, Clash, and Notion, plus received plays on 6 Music. We can't wait to hear what the duo have next. More, please.
CONTACTS
Label: Tonique Records
Press & Online: Lucius Yeo, Copacetic PR
Management: Jana, Grand Mgmt
RECORD ARCHIVE
Label: Square Leg Records
Wild Horse Running marks the return of British songwriter James Page, aka Sivu, after five years.... Label: Tiny Tiger Records
Someone is the moniker of Dutch/British composer, producer and visual artist Tessa Rose Jackson. Through... Label: Strange Method Music Group
Begging is the latest single from British-Australian artist Harry Heart. He's an artist who has... Label: Believe
It's been nearly two years since we featured London-based artist Jack Mercer, aka VC Pines,... Label: Warner Music Ireland
We've been following the progression of Zimbabwean/Irish soul singer-songwriter Siobhan McClean, aka shiv since we... Label: Tileyard Music
Melding sad-girl pop with ethereal anthems is electronic pop star and songwriter Tiggi Hawke in... Label: self release
Let us introduce you to London-based artist and songwriter DWN MSS (pronounced Dawn Moss) with... Label: self release
Rainbow's End is the darkly tragic new single from Italian alt-rock act Codice EGO. Taken... Label: Vanilla Sky Recordings
Built upon an energising drum backbone, Guts is the warm and dreamy new single from... Label: self release
With its syncopated hand-clap rhythms and colourful Latin harmonies, Connection is the latest single from 25... Label: self release
Kicking off with frenetic guitar riffs, We Get On is the latest single from Weston... Label: self release
It's been just over four years since we last featured London-based singer-songwriter Lauren Ray and... Label: self release
Swirling with emotive melodies, lyrical vulnerability and reaching a feverous climax, Super Big Powers provides... Label: PIAS
Surinamese/Dutch folk-pop singer-songwriter Neomi Speelman, aka néomí, bewitched us last year with her delightfully authentic and... Label: Florence Arman / AWAL
Next up on our recommendations for an artist to watch at this year's Eurosonic is... Label: FAMM
Performing at Eurosonic on Wednesday (18 January) at 21.30pm at the Der AA-Theater is the...