Label: Rehn Music Group
...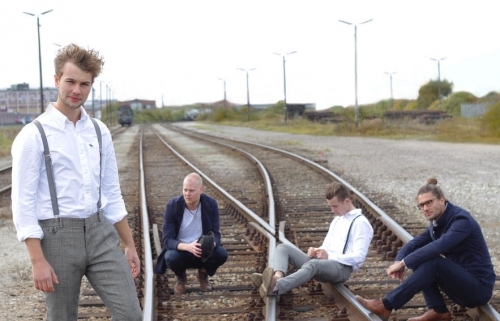 13 Dec 2016
WE SAY
Hailing from Lund in southern Sweden, Royal Prospect formed two years ago, and their sound draws from many of the biggest-selling bands of the millennium so far. It all kickstarted for them in 2014 when they released their debut independent EP Watching Your World, and took part in the Swedish version of the Emergenza festival, which they went on to win. Last year, they played Zagreb's big Inmusic summer festival in Croatia, but it was the Swedish music showcase event Live at Heart in Örebro that really got them noticed and signed on the spot after being the talk of the festival. You'll hear Coldplay and Keane influences shine through here on this uplifting track, particularly in the vocal delivery of their charismatic 19-year old frontman Oscar Reingsdahl. It was mastered by Grammy award-winning producer Bill Hare, and is packed full of melody, passion and power. An EP in the spring precedes UK tour dates next summer, and then an album at the end of 2017. Even at this early stage, this confident song points to them becoming stadium-fillers in the none-too-distant future.
CONTACTS
Label: Tommy Rehn, Rehn Music +46 707 424 862 [Sweden]
Publishing: Ulrika Holmberg, Musichelp, +46 733 792 937 [Sweden]
Management: Peter Åstedt, Add-more, +46 733 792 937 [Sweden]
RECORD ARCHIVE
Label: The Bearded Man
Premiered last month on Pete Tong's Radio 1 show, this excellent track by Montreal producers... Label: Operator / Polydor / Interscope
Released today (December 9) and following-up their MOBO Best Song-nominated Who Do You Think Of?... Label: unsigned
Stephen Kelly is a member of London-based indie punk band Model Society, but here he... Label: Warner Bros Records
Each year, ten emerging artists receive a European Border Breakers Award (EBBA) to mark their... Label: Columbia Records / Best Laid Plans
A contender for one of 2016's truly great songs, Rag'n'Bone Man is flying up the... Label: Embrace Records
It's eighteen months since we last featured Netherlands-based group My Baby, but a lot has... Label: 4AD
Hailing from Finland and Denmark, Liima released their album "ii" earlier this year, but it's now securing... Label: Polydor
German duo Kilian & Jo hook up here with Swedish artist Erik Rapp for an... Label: Columbia
A glance down the list of France's most Shazamed acts worldwide in 2016 reveals that... Label: Razzia/Family Tree Music
Swedish artist Andrea Kellerman returns after a five year absence under her alias of Firefox... Label: AATW
With 65 million total streams on Spotify, and already sitting inside their UK Top 40... Label: self release / Honeycomb Records
Released today and featured in Spotify's New Music Friday playlist, this song from Emily Burns... Label: unsigned
Dublin musician Ailbhe Reddy is a singer-songwriter whose deeply personal heart-on-her-sleeve lyrics and a memorable... Label: Safari Records
Belgian electronic four-piece GOOSE are beloved in the native land, and this title track from... Label: ADA
It's the rock n' roll dream to be signed at your very first solo gig.... Label: unsigned
Back in June, we featured singer-songwriter Amy Syed with her wonderfully atmospheric chilled electro ballad...