Label: B-Unique

Notice: Trying to access array offset on value of type null in /home2/recordof/public_html/on-the-move/track.php on line 88
...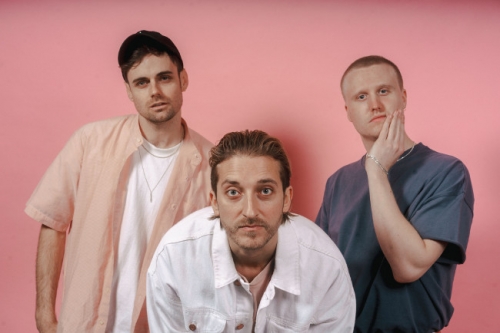 14 Aug 2019
Liimo
If You Love Me
WE SAY
This sultry, electro-pop jam about heartbreak is from London-based Scottish trio Liimo. Having known each other since they were teenagers in their native Edinburgh, Kieran, CJ and Jamo only started working together as Liimo a couple of years back after moving to London. Since then they have released four singles (including this one – watch the video here), amassed over 700k+ streams and have already picked up tastemaker support from the likes of Spotify, Earmilk, The 405, Clash, Euphoria Magazine and Born Music to name just a few, plus airplay on Radio 1 from Adele Roberts. Sitting somewhere between LANY and The 1975, Liimo are a band who deftly weaves sweet synthpop melodies with dreamy lyrics into intoxicating pop gems, and this is no exception. Just gorgeous.
CONTACTS
Label: B-Unique
Radio/Promotion: Neil Hughes, B-Unique
Online: Lorraine Long, Longevity PR
Marketing: Leah Stockford, B-Unique
MIxer: Charlie Holmes
Management: Charlie Stent, Mark Lewis & Martin Toher
RECORD ARCHIVE
Label: Fighting Ourselves/30th Century Records
Grabbing your attention almost instantaneously, Radio 1's Annie Mac recently chose this Husky Loops tune... Label: Robbins Entertainment
New York natives Michael Scimeca and Stephen Georgilis, aka electronic music group ONEDUO, have teamed... Label: Sun St. East Records
Drenched in lashings of soulful harmonies, lush sweeping synth melodies and snappy percussion motifs is... Label: Universal Music Ireland
Time for something slightly different today with this beautiful rendition of Mise Éire - a poem... Label: Goldun Egg
London-based singer-songwriter FERGUS shapes a rather beautifully evocative and melodramatic listen in his second EP,... Label: Solitaire Recordings
Now here is something sounding undeniably cool from Connecticut's multi-instrumentalist Jon Searles, aka Jonathan Something.... Label: Corella Music
Since meeting at university in Manchester, Corella consisting of Joel Smith (vocals), Ben Henderson (bass... Label: Parlophone/Warner Music
Named by the New York Times as "one of the most important acts in Europe... Label: Paragon Records
Still just 18 years of age, and having amassed almost 10m combined streams across all... Label: Xenomania
Bursting with energy right from the off is this deliciously addictive slice of funk-laced bop... Label: Bad Future
Back in April, rising 22 year old South African multi-instrumentalist James Deacon caught our attention... Label: self-released
Welcome to a new week and what better way to start it off than by... Label: IHC 1NFINITY
This strikingly beautiful and shimmering dose of the new wave-pop is from emerging Glaswegian band Walt... Label: Sony Music CG
Born and raised in south London, Ashley Henry is a rising pianist and genre-blurring artist... Label: Island Records
With their free-wheeling blend of laidback hip-hop, trippy electronics and summery R&B grooves, Leicestershire quintet... Label: Grace and Danger
Back in November, we openly gushed about the hauntingly beautiful and cinematic track Darkness by rising duo Maven...