Label: Fighting Ourselves/30th Century Records

Notice: Trying to access array offset on value of type null in /home2/recordof/public_html/on-the-move/track.php on line 88
...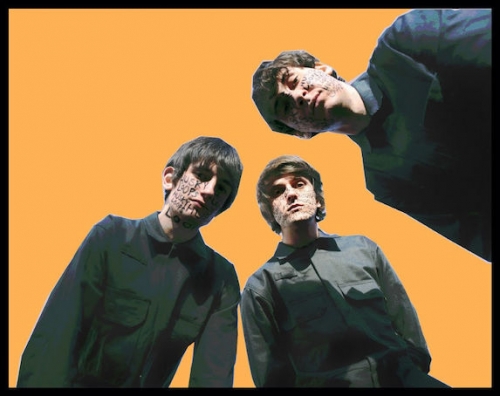 13 Aug 2019
Husky Loops
I Think You're Wonderful
Fighting Ourselves/30th Century Records
WE SAY
Grabbing your attention almost instantaneously, Radio 1's Annie Mac recently chose this Husky Loops tune as her Hottest Record In The World before then going on to make it her Track Of the Week last week. Pietro, Danio and Tommaso are London-based, but hail from Bologna. They're signed to producer Danger Mouse's label 30th Century Records. Debut album I Can't Even Speak English, due September 6, comes in a unique completely customisable form with a physical or digital pen, allowing fans to create their own bespoke cover. Twisting conventions with every turn, you can experience the album in full at a free entry pre-release party this Thursday (August 15) at Rye Wax in Peckham. There are UK and European live dates in October, including two nights at Bermondsey Social Club on October 16 & 17. With specialist support right across the board at Radio 1 for two of their previous tracks, and Spotify UK, Denmark, Japan and Iceland all popping this one into their New Music Friday playlists, the word is spreading. This is a cool, addictive groove that's positively fizzing with energy and earworms aplenty.
CONTACTS
Label: Gary Walker/Max Michaels, 30th Century Records
Publishing: Muzna Al-Said/Ian Robinson/Mat Morrisroe
Distributor: James Moodie, The Orchard
National Radio: Rob Lynch
Online: Lorraine Long, Longevity PR
Live: Will Marshall, Primary Talent
Management: Stefano Anselmetti/Colin/Ben Duffy

RECORD ARCHIVE
Label: Robbins Entertainment
New York natives Michael Scimeca and Stephen Georgilis, aka electronic music group ONEDUO, have teamed... Label: Sun St. East Records
Drenched in lashings of soulful harmonies, lush sweeping synth melodies and snappy percussion motifs is... Label: Universal Music Ireland
Time for something slightly different today with this beautiful rendition of Mise Éire - a poem... Label: Goldun Egg
London-based singer-songwriter FERGUS shapes a rather beautifully evocative and melodramatic listen in his second EP,... Label: Solitaire Recordings
Now here is something sounding undeniably cool from Connecticut's multi-instrumentalist Jon Searles, aka Jonathan Something.... Label: Corella Music
Since meeting at university in Manchester, Corella consisting of Joel Smith (vocals), Ben Henderson (bass... Label: Parlophone/Warner Music
Named by the New York Times as "one of the most important acts in Europe... Label: Paragon Records
Still just 18 years of age, and having amassed almost 10m combined streams across all... Label: Xenomania
Bursting with energy right from the off is this deliciously addictive slice of funk-laced bop... Label: Bad Future
Back in April, rising 22 year old South African multi-instrumentalist James Deacon caught our attention... Label: self-released
Welcome to a new week and what better way to start it off than by... Label: IHC 1NFINITY
This strikingly beautiful and shimmering dose of the new wave-pop is from emerging Glaswegian band Walt... Label: Sony Music CG
Born and raised in south London, Ashley Henry is a rising pianist and genre-blurring artist... Label: Island Records
With their free-wheeling blend of laidback hip-hop, trippy electronics and summery R&B grooves, Leicestershire quintet... Label: Grace and Danger
Back in November, we openly gushed about the hauntingly beautiful and cinematic track Darkness by rising duo Maven... Label: Self Release
Evoking the stadium spirit of the Boss and the anthemic songwriting nature of The Killers,...