Label: Independent
...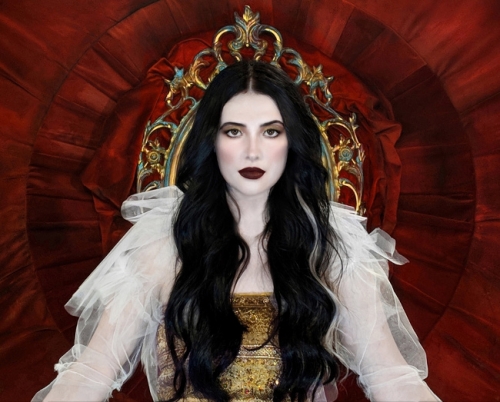 31 Oct 2018
WE SAY
London based singer-songwriter Cecil first came to our attention over eighteen months ago with the beautiful piano-led Haunt that effortlessly showcased her pure and dreamy voice. Since then, she has been working on new material by incorporating extracts from her screenplay-writing uncle Cecil McGivern (whose name she adopted for her professional persona) into her music and adopting an electronic pop feel. Last Friday (26 October) she released her latest single, Toybox, following previous tracks, Black Maria and Queen of the Cruel, which helped her garner plays on BBC 6 Music and BBC Introducing, as well as online tastemaker support from the likes of Clash, Essentially Pop and Spindle magazine among others. With its wickedly hooky vocal line "round our heads like la la, la la la, la la la la la la, and it goes like la la, la la la, la la la, Toybox is a gorgeously dark and compelling dose of ethereal alt-pop. Watch her eerie and twisted video featuring Cecil in a custom-made, human size music box. Having performed at Liverpool Sound City, Hampton Court and Henley festivals earlier this year, she will be performing in London at the Hoxton Square Bar on 4 December. A decidedly addictive treat for this All Hallows Eve.
CONTACTS
Label & Publishing: Leon Bacquenois, StormCraft Music +44 (0)7538 508 540
Radio, Press, Live & Management: Bobby Mitchell, StormCraft Music +44 (0)7525 338 792 / +44 (0)20 3488 1354
RECORD ARCHIVE
Label: Self-released distributed via AWAL
Back in June we featured the beautiful ethereal ballad, Whispers, from Manchester-born singer-songwriter and multi-instrumentalist... Label: Decca
Within twenty seconds of listening to Pain and Misery you'd be forgiven for thinking it... Label: á Deux/Cosmos Music
Swedish-Australian twin sisters Elektra and Miranda Kilbey, aka Say Lou Lou, last Friday released their sumptuous... Label: LAG Recordings
Premiered by Julie Adenuga on Beats 1 last Thursday and released on Friday, Proper Paper... Label: Western Vinyl
Farao is the project of Berlin by-way-of Norway multi-instrumentalist and producer Kari Jahnsen. In 2015, her... Label: Sony Music
For those of you who didn't catch the Royal Wedding of Prince Harry and Meghan... Label: Parlophone UK
With over 100m streams and 195m YouTube views to date, French artist Aya Nakamura has... Label: Archtop Records via Absolute Label Services
We have been keeping tabs on London based duo Ferris & Sylvester ever since we... Label: Dumont Dumont
Earlier this year, Swedish dream-pop trio ViVii introduced themselves to the world with their glorious... Label: The Lights Label
There is something rather magical going on in this beautifully honest and emotive track from... Label: AWAL
18 year old Millie Turner from Hackney swapped her paintbrush for the recording studio two... Label: self release
Rising from the ashes of former band Sub Motion, Dublin-based Sick Love, consisting of frontwoman... Label: Olive Grove Records
Back in January this year, we introduced you to Glasgow singer-songwriter Carla J. Easton and... Label: Kate Lomas
With a distinctly British sound and swagger, Drink 2 U is the latest single from... Label: Funnel Music
There is something rather beautiful about this debut offering from 19 year old singer-songwriter RVBY. From... Label: Distiller Records
We last featured the indie pop sounds of London-based band Anteros last December with their...