Label: Both Records LLC
...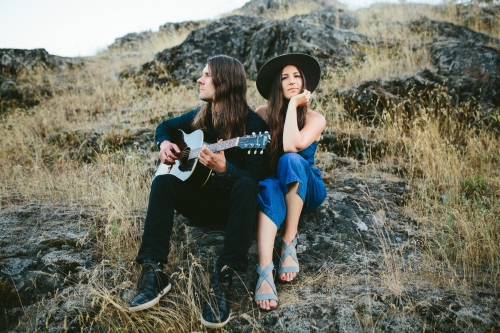 25 Sep 2017
WE SAY
Brooklyn based husband and wife power-pop duo Nathaniel Paul and Jillian Speece aka The Bergamot deliver a soothing and dreamy slice of upbeat indie folk in their debut UK single release PDR. The debut track was picked up by and mixed by renowned producer & engineer Matt Wiggins (Glass Animals, Lana Del Rey, Adele) and boasts unbreakable harmonies, classic pop songwriting, soaring guitars and stories that talk about the joys and heartaches of life. Drawing on the duo's influences of Feist, Broken Social Scene and Ryan Adams the song blends the layered vocal sounds of Angus and Julia Stone with the infectious melodies of The Lumineers. Having played over 250 live shows in the US last year the band are looking to tour the UK/Europe in Spring 2018 ahead of their debut UK album launch and are looking to attract a booking agent with this release.
CONTACTS
Label, Publishing & Management: Nathaniel Paul, Both Records LLC
Press & Online: Simon Blackmore, Black Arts PR, +44 (0)7973 374 423
RECORD ARCHIVE
Label: Distiller Records
Glasgow's noise pop quartet The Ninth Wave manage to brilliantly combine 80s new wave, post... Label: Self Release via AWAL/Kobalt
Drenched in soulful vibes with a weighty percussive backbone and infectious melody, You Left Me... Label: Hot Hot/Polydor
Hannah Jane Lewis's irresistible new pop single, Raincheck, her first through Polydor, fizzes with a... Label: Petroleum Records
Oslo based newcomer ARY is set to follow the success of fellow Norwegians Sigrid, Astrid... Label: Mermaid Records
Full of rock swagger and attitude, Velvet Volume are three sisters from Aarhus in Denmark... Label: self release via AWAL
Let us introduce you to the beautiful world of new electro-folk project Run Rivers fronted... Label: Dharma Records
English singer-songwriter Alexander Wolfe first came to our attention in October last year, when we... Label: Robbins Entertainment
Miami based artist Triarchy has produced an absolute smash with this tropical infused belter Coconuts.... Label: BGM Entertainment
Released last Friday (September 8), Pointless by Salford vocalist Hatty Keane is one of the... Label: unsigned
Laura Oakes is a leading light of British country music taking home Best Female Vocalist... Label: self-release
The beautifully acoustically strummed Gold Dust, is taken from singer-songwriter Chris Simmons' new double A-sided... Label: 37 Adventures
Australian duo Geowulf release another dream pop firecracker with their latest single Drink Too Much.... Label: Lightyear Entertainment via Caroline
Hailing from Exeter, The Loft Club are a '60s-tinged indie band who released their debut... Label: Closer Recordings via Virgin EMI
OUTLYA, the clandestine purveyors of star-spangled pop glory, follow up a succession of brilliant taster... Label: unsigned
Isle of Wight based singer-songwriter Lauren Hibberd is an artist we featured back in July... Label: Cosmos Music
Swedish songstress Frida Sundemo has bewitched us ever since we featured her back in August...