Label: West Wave Recordings
...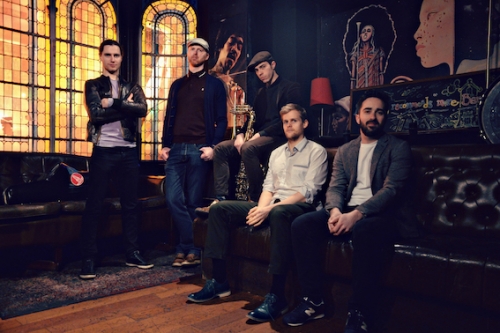 02 May 2017
WE SAY
Miles Graham has certainly been busy since we last featured him in 2015 with his gorgeous track I Can't Love You Again. The Dublin-born singer-songwriter was one of the final Irish acts to perform in session on Sir Terry Wogan's Radio 2 show, and his soulful voice won him a lot of support elsewhere on the station, as well as from Cerys Matthews at 6 Music, who even compared him to Pharrell after seeing him perform live. But he's also carved out a sideline niche as a featured artist and co-writer on several dance records. His collaboration with L'Tric on their excellent underground Ibiza anthem 1994 is just shy of two million Spotify plays. He'll soon appear on the forthcoming Don Diablo single, which he's also co-written. Meanwhile, his own career gets back on track with this first of a bunch of songs from him that'll arrive during the rest of this year and into 2018 too. On display are wonderful gospel-tinged vocals, full of passion and raw emotion, with the spirit of Van Morrison, Paul Young and even Jack Savoretti running through it all. Miles is a supreme talent and this is surely his year.
CONTACTS
Press & PR: Nick Fleming, Fleming Associates, +44 (0)7860 214 837
Online & Live: Miles Graham
Management: Shane Mitchell, West Winds Music, +35 3868 306 096 [Eire]
RECORD ARCHIVE
Label: unsigned
With a range of influences from the worlds of jazz, neo soul, funk, hip-hop and... Label: self release
Kieran, Samuel and Toby are Febueder (pronounced Fe-byou-der), three young guys, all in the early-20s,... Label: unsigned
Ella and Alex are a pair of long-time school friends who are now London-based in-your-face... Label: Parlophone
Featuring Rag'n'Bone Man, Zebra Katz & RAY BLK, this superb Gorillaz track was premiered on... Label: Warner Music
Whenever we need a perfect pop fix, our attention turns to the Nordics. Their knack... Label: Nova Music
Bringing together three hugely talented young musicians in their own right to form a new... Label: Submarine Cat Records
London-based five-piece Curse Of Lono formed in 2015 when singer Felix Bechtolsheimer left his previous... Label: ILA Records / Kartel Music Group
Adrian Galvin is the Brooklyn-based songwriter and performer known as Yoke Lore. Having gained so... Label: EKO Records / Kobalt
Premiered recently by Mistajam as his Hottest Record In The World on Radio 1, Becky... Label: self release
After steadily building her profile in her native Ireland, Katie Laffan now looks set to... Label: self released
Liverpool four-piece Polar States are an emerging band with a strong local following and a... Label: Bluestack Records
Pearse McGloughlin is a singer-songwriter who hails from Sligo in the north west of Ireland.... Label: unsigned
New Zealand four-piece Shakes first came to our attention at the back-end of last summer,... Label: unsigned / self release
Released today (April 7), from her debut EP Silly Business, this song comes from Newbury-born... Label: Clear Records
A legend of the Irish music scene, thanks to his astonishing work to date across... Label: Sunglasses Records
Following Velcro in February, Jerry Williams comes under our spotlight for the second time in...