Label: Music For Dreams
...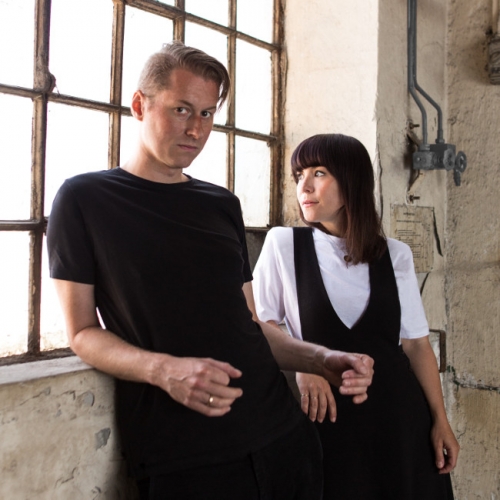 13 Sep 2018
WE SAY
Just over two years ago we were enchanted by the chilled and dreamlike sounds of Sommer by Danish duo Nicolai Kornerup and Hannah Schneider, aka AyOwA. Inspired by the likes of the Cocteau Twins and Boards Of Canada, the duo, who turned their long-term friendship into a musical collaboration, have created another mesmerising dose of dreamy electronic goodness. Farvel (meaning goodbye in Danish) is the title track to their forthcoming EP release at the end of the month and sees them exploring acoustic elements in their musical soundscape with the introduction of sweeping string arrangements. It's a gorgeous addition that only heightens the intimate feel of this beautiful and melancholic ballad sung entirely in Danish. Previous tastemaker praise has come from the likes of the Line of Best Fit, Clash, Noisey, and Wonderland, while BBC Radio 1, 6 Music, Radio X, and Beats 1 have all supported alongside P3 and P6 radio stations in their native Denmark. Next month they will be supporting Eivør on their European tour that will include three dates in the UK (Norwich, Brighton, Cardiff). Insidiously captivating and mellow, Farvel is an absolute joy and their best yet.
CONTACTS
Label: Oscar Bandersen, Music For Dreams
Press, Online & Radio: Terry Emm, Cannonball PR
RECORD ARCHIVE
Label: Luna Music Group
Growing up in Spokane, Washington, American singer-songwriter Jerad Finck spent his formative years learning to... Label: Relentless
We are massive fans of Tom Walker here at RotD, having previously named his sublime single Leave A... Label: Paper Plane Records Int.
English born, German-based singer-songwriter Alice Merton burst onto the global stage last year with her... Label: Big Machine
Regular readers will know of our admiration for the gorgeous vocals of American artist Danielle... Label: Horus Music
We last featured singer-songwriter Matthew Russell-Jones, aka M.R.J, at the start of last year with... Label: Self Released
With over 50m combined streams over the last 12 months alone, it's safe to say... Label: NHMM
Released last Friday (31 August) and sounding like an instant party starter, California is the... Label: unsigned
Æ MAK is the alias of Aoife McCann, who has been turning heads both at home... Label: Island
Having produced tracks for the likes of Not3s and Young Adz, producer Remedee steps out into the... Label: Ignition Records
Derry-born artist Rosborough has been lighting up the airwaves in his native Ireland since the... Label: Decca
Within thirty seconds, this tranquil and beautiful collaboration between award-winning Scottish composer Craig Armstrong (Moulin Rouge!,... Label: Beverly Martel
With R&B-flecked sounds riding high in charts across the globe, emerging Detroit artist Apropos returns... Label: Self Release
We are big admirers of Dublin-based singer-songwriter Ailbhe Reddy here at RotD, having previously featured her gorgeous... Label: unsigned
Let us introduce you to the hauntingly beautiful sounds of Second Hand Poet, the secretive... Label: RCA
With over 21m streams for her debut single, Don't Need No Money and a UK... Label: Music Core
South Londoner Kelli-Leigh is no stranger to the Top 40, having sung vocals on two...