Label: 2220 Records

Notice: Trying to access array offset on value of type null in /home2/recordof/public_html/on-the-move/track.php on line 88
...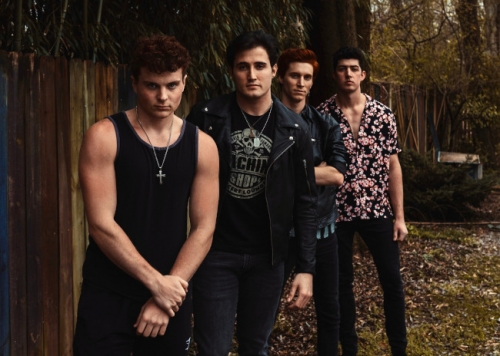 25 Mar 2020
WE SAY
Here is something to brighten up your Wednesday morning from US four-piece 5WEST. Based out of Nashville and Los Angeles, the emerging pop group have accrued a diehard fanbase, having supported Boyzone on their UK tour last year, as well performing at the President's Ball in Cape Town and Gran Canaria Pride. Developed and produced by Bryan Todd (Kelly Clarkson, Miley Cyrus), 5WEST dropped their debut single, Stars About You, last year, which went into the top 30 of the Billboard charts. Now back with this vitamin-C filled pop ode about love, the lads deliver some gorgeous harmonies backed by some lush pop production, in this uplifting and catchy pop anthem. This feel-good track has been picking up early support at regional radio and mix shows, but we reckon this is a grower and will be the perfect little summer earworm.
CONTACTS
Label: 2220 Records
Publishing: Universal Music Publishing
Radio: Mark Murphy, Dawn Promotions
Press & Online: Kate Whitman, Space Promotions
Club: Matt Waterhouse, Matt Waterhouse Represents and Tracey Webb, Power
Live: Kevin Moss, Marshall Arts
TV & Management: Bryan Todd, 2220 Records
RECORD ARCHIVE
Label: self released
This pulsating and uplifting slice of indie rock is from Brighton-based indie trio Thrillhouse. Bursting... Label: Project Melody
Colchester-based six-member music collective Monster Florence is a band that channels hip-hop, punk and UK... Label: Mouchiouse Music
It's been a while, over six years in fact, since we featured the gorgeous sounds... Label: Grace and Danger
We are big fans of Maven Grace's cinematic blend of gothic noir pop, and it's... Label: unsigned
Coming in at under two and a half minutes is this spellbindingly gorgeous bedroom pop... Label: independent
Let us introduce you to 24 year old London-born singer-songwriter Jacob Browne. He has only... Label: 3Beat
Sfven is a Leeds-based self-produced electronic artist who's picking up his fair share of attention... Label: Red Sun Records
Let us introduce you to the cosmic pop sounds of London-based five-piece Pet Puma. Formed... Label: Modern Sky UK
Full of Britpop swagger and Kasabian-like raucousness, Headlock is the latest release from Lancashire band... Label: Psycho John Records
Moving on from her dark and moody downtempo beginnings, Blackburn-born artist Charlotte OC is back... Label: Kobalt/AWAL
Drawing on musical influences as diverse as Erykah Badu and Lauryn Hill to Fleetwood Mac,... Label: Keedy Records
Emerging south London grime artist Keedz has been turning heads with her lyrical agility and... Label: Radikal Records
Swirling in deliciously dark overtones and earthy, clubby vibes is this introspective alt-pop number from... Label: Bad Future
At the end of last year, we introduced you to 19 year old South African... Label: independent
We have been keeping tabs on rising Berlin-based experimental pop artist Novaa since she beguiled... Label: unsigned
This touching and moving electronic pop offering is from emerging solo artist Zeplyn, otherwise known...