Record of the Day - In tune. Informed. Indispensable.
In tune. Informed.
Indispensable.

Tuesday 27 July 2021
Azure Ryder
Island Records
Released: Single: Out now/EP: 22 October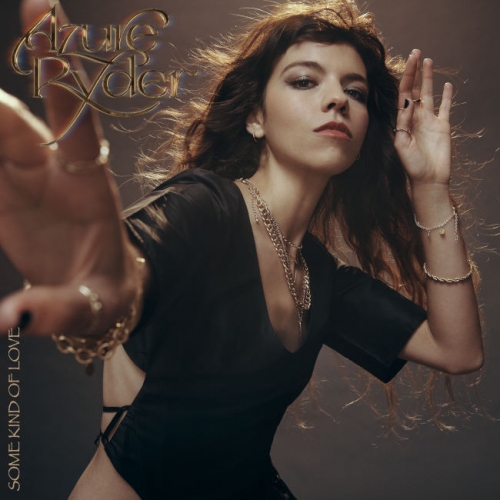 We say

Back in November last year, we waxed lyrical about the Australian-Lebanese singer-songwriter Azure Ryder and her gorgeous second EP, Crazy With The Light, having kept an eye on her since the release of her debut track Dizzy. In the eighteen months since the release of that debut, Azure has grown in confidence, amassed over 25m streams, and picked up massive support both here and in her homeland. Triple J, Radio 1 (Jack Saunders Future Artists), BBC, Sunday Times, Notion, and 10 Magazine have all supported and praised her. Now back with her first music of 2021, this deliciously euphoric and hedonistic dose of majestic indie/pop, Azure is ready to woo more listeners to her earthy and soulful tones. Originally written and recorded in London (and was, in fact, the demo that got her record deal with Island Records), Some Kind Of Love has been produced by Dylan Nash (Dean Lewis) for her forthcoming third EP. Released last week, the track quickly made an impression on streaming services with additions to new music playlists at Spotify and Apple Music, and we expect to hear this on summer and mood playlists soon. Watch the gorgeous Simon Lekias (Kylie, Lily Allen) directed video here. A rising star.

Contact

Label: Joanna Light, Island Records
National Radio: Rob Lynch, Airplayer
Online: Aria Alagha, TaP Music
Press: Beth Drake, Toast Press
Live: UK/EU – David Levy, WME/APAC - Brett Murrihy, WME
Management: Tim Manton + Sam Corbett, TaP Mgmt
Read This…

Liv Nunn launches No Boundaries Agency (see News)
Spotify and music listening ten years from now (see Opinion)
| | | |
| --- | --- | --- |
| | Comment, Opinion, Analysis and Reports | |
| | | |
Media

BBC One announced Billie Eilish: Up Close, featuring her in conversation with Clara Amfo. She will also be making her debut in Radio 1's Live Lounge. (RotD, iNews p13))
6 Music announced the 6 Music Stage at All Points East in London's Victoria Park on 27-30 August with highlights to be broadcast. (RotD)

RADIO

09.30 Radio 2 Scott Mills - Mabel chooses Tracks of My Years
12.00 Radio 1 Live Lounge - BTS
18.00 Radio 1 Annie Mac - Robyn co-host
| | | |
| --- | --- | --- |
| | Artist and Music Features | |
| | | |
| | | |
| --- | --- | --- |
| | And also | |
| | Job opportunities | |
Showbiz and News

Ronan Keating settles with News of the World publisher over phone hacking claims. (Variety)
Britney Spears has described her father Jamie Spears as "threatening and scary" in new court documents requesting he be replaced by her accountant as conservator. (Independent)
DaBaby was condemned for homophobic comments during his performance at the Rolling Loud festival in Miami. (Independent)
Elle Eyre, Raye and Heather Small attended the Ned's Club pool party with DJs Jodie Harsh and Annie MacManus. (Standard p14)
Queen and The Beatles were among the 10 highest earning bands in the US last year. (Star p15, Mirror p19)
Stormzy is to receive his own waxwork at Madame Tussauds. (Star p3, Sun p18, Independent)
Natalie Imbruglia has hit out at 'weird taboo' after having an IVF baby herself. (Mirror p25)
Rita Ora pictured in a car in Las Vegas during her manager's birthday celebrations. (Standard p8)
Jennifer Lopez pictured on a shopping trip in Monaco wearing a necklace spelling out "BEN". (Mirror p12)
Madonna pictured on a flamingo inflatable at her family barbecue. (Star p17, Sun p7)
Reported yesterday, Peter Jackson has revealed that Interpol helped recover dozens of hours of long-lost Beatles audio tapes that enabled him to complete his upcoming definitive three-part Disney+ Get Back doc series. (Express p29)
Mirror Diary, p21: Madonna rented a trailer for a family barbecue. 6 Music's Tom Ravenscroft is pleased with his curated stage at All Points East festival.
Sun Bizarre: Mabel says anytime she is heartbroken she listens to Coldplay to help her get over it. Rita Ora spent 48 hours partying with friends in Las Vegas. Pete Doherty was spotted grabbing water and sweets from a cornershop following his gig at Powerhaus in London. Dave is dominating the official album chart this week. Whitesnake are writing a Christmas record. Megan Thee Stallion pictured performing a the Rolling Loud festival in Miami. Ashley Roberts pictured in central London.
Star Wired: Megan Thee Stallion threw money into the crowd during a performance at nightclub E11EVEN in Miami. Shaun Ryder and Robbie Williams have done 96 versions of the same dance song. Tom Jones has announced a new UK tour this December. Grimes and Blackpink's Jennie fuelled collaboration rumours after sharing snaps from their recent SpaceX trip. Fans are convinced Catfish And The Bottlemen have gone their separate ways as frontman Van McCann is now the only member left in the band's accounts. Gretta Ray has just released her third double A-side 'Cherish'/'The Brink'. Anne-Marie says Ed Sheeran has "been one of my favourite people in this industry to have as a friend". Lady Leshurr releases new tune 'Time To 65075'. Camila Cabello's family star in her video for 'Don't Go Yet'. Mabel is convinced fans will love her Joel Corry and MNEK collab.
Metro Guilty Pleasures: DaBaby under fire after shocking anti-gay and sexist remarks during his Rolling Loud performance in Miami. Grimes has accused Azealia Banks of trying to "destroy [her] life". Adele has appeared to confirm her romance with Rich Paul with a dinner at the Italian restaurant Cipriani. The BBC is to air Billie Eilish: Up Close documentary on Friday. Stormzy is being immortalised by Madame Tussauds. Lil Nas X has lashed out at double standards after American author Dr Boyce Watkins commented on his video for 'Industry Baby' for "marketing a sexual irresponsibility that's causing men to die from Aids".
Reviews
Live

Latitude festival - Henham Park, Suffolk. (Independent - 5* Annabel Nugent, iNews p41 - 5* Ali Shutler, Guardian - 4* Kate Hutchinson)
Kaleidoscope Festival - Alexandra Park, London (Standard p11 - 4* Andre Paine)
Record of the Day
Paul Scaife
Joe Taylor
Kevin Marston
Lee Thompson
Ruth Kilpatrick
Edited by Kevin Marston and Paul Scaife
+44 (0)20 8223 1224

Please respect the amount of work that's put into this newsletter by not regularly pirating it. One-off forwarding is acceptable but only if we are copied in.

Terms & Conditions - By reading this email you agree to our T&Cs

Record of the Day is a trading name of Music Today Ltd, a company registered in England under registration number 4546152; registered office: 4 Green Lanes, London N16 9NB
Copyright © 2023 www.recordoftheday.com